Talking Science with Rutherford Appleton Laboratory
Exploring the world of quantum computing
Friday 15 September 2023 (13:30 and 19:00) (12+)
What does the future of computing look like? Join Daisy as they explore the world of quantum computing, from the physics of qubits to quantum algorithms. We will discover how quantum computers work, how they are different from regular computers, and how we can use them to solve certain problems. Quantum computers have the potential to positively impact our everyday lives, so come along if you'd like to learn more about this incredible technology.
Speaker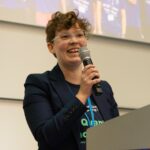 Daisy Shearer
Outreach and Engagement Officer, NQCC
Daisy's role at the NQCC invloves leading on strategy, facilitation and delivery of education, skills, and outreach to support the development of the quantum workforce in the UK and public understanding of quantum computing.